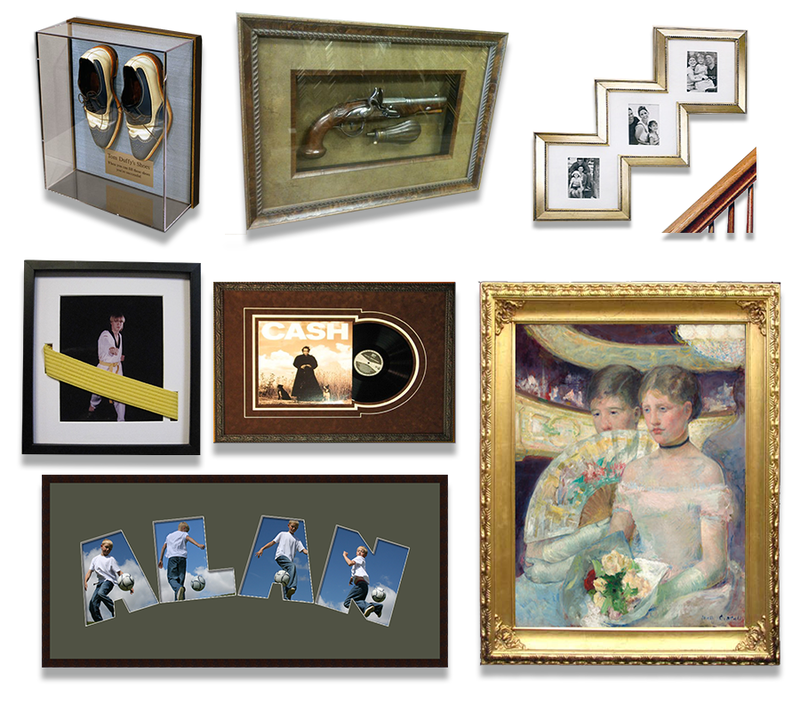 Discover Emerging Artists Showcase Now Offers Custom Framing
Whether it is our artwork or your fine art, cherished memento or esteemed award, we can frame it!
Our talented designers will work with you to create the perfect frame for you. Then, our own framer - a master carpenter, contractor, and wood craftsman for more than 30 years - will bring your visions to life with precision and care.
FAQ's About Custom Framing
What are some of the services/products that you offer?
A Wide Selection of Hundreds of International Artisan Crafted Mouldings

UV-Protective Glass

Museum Glass

Shadow Boxes

Gallery Wraps

Photo Framing

Award Framing

Sports Memorabilia

Acid-Free Mats

Ornate Mats

Embossed Mats

Do you want your name engraved in the mat under your wedding picture? We can do that!
How much does framing cost?
There are many factors that determine the final cost of custom framing, the moulding you select, the size of the art piece, glass, mats and the labor involved. As an example: The average cost to frame a diploma will be around $185.00
Where is your framing done?
All of our framing is done in our off-site framing workshop.
How long will it take to do my framing?
On average it will take 2 weeks. Since we only do custom framing, every moulding is special ordered from the manufacturer, then everything is cut and made to your specific order.
Can you tell me how much it will cost over the phone?

There are many factors that will determine the cost. It is impossible to give prices over the phone. The best idea is to bring your item(s) in.
We can frame just about anything! Come see us TODAY!